Fitbit's Most Advanced Fitness Tracker Is Pretty Underwhelming
With a host of improvements some of which aren't even ready for prime time, it might not be worth upgrading Fitbit's Charge 5, yet.
Fitbit's Charge 5 fitness tracker should thrill me more. Unlike last year's iterative Charge 4, the new model features an always-on color touch screen, and electrodermal activity sensor, an electrocardiogram sensor, and a new measure called the Daily Readiness Score. On paper, this tracker is a big improvement over earlier versions. In truth, half of these features aren't brand new, and the one that isn't nearly ready for testing yet.
Don't get me wrong: the Charge 5 is one of my favorites. It's without a doubt one of the best fitness trackers available right now. It's difficult to be enthused about yet another great activity-tracking band that repackages cool features from past Fitbits rather than offering anything new.
The Battery Drain of a Beautiful Always-On Display
If it ain't broke, don't repair it, according to Fitbit's Charge attitude. With the Charge 5, that has changed a little. Fitbit has taken features from all of its other devices to offer its most popular tracker a substantial redesign this time around.
The Charge 5 is designed to look like the new Fitbit Luxe. The Charge 5 sports the same gleaming new full-color, always-on AMOLED touchscreen as the Luxe. The screen is twice as brilliant as the Charge 4's, and the case is also somewhat thinner, according to the manufacturer. This is a fantastic upgrade. Reading notifications on this screen is a significantly better experience than on prior Charge trackers because the display is easy on the eyes and simple to read in the sunshine. Seriously, as someone who suffers from bad eyesight, I was blown away by the difference the display made.
My primary gripe is that the bezels are still quite large, but thanks to Fitbit's clever design of the watch faces and screens, this isn't a big deal. Overall, the device is pleasant to wear, and the sleek look is a welcome upgrade. The Charge 5 has a nice strap and is a tracker that I'm not afraid to wear at a formal event.
Unfortunately, the lovely always-on display drains the battery completely. Fitbit's trackers can't remember a time when the charging did not last at least five days for their long battery life. The Charge 5 offers a seven-day battery life estimate, but not if the always-on display is enabled. Even if you enable a setting that turns the AOD off while you sleep, you'll only get around two days' worth of battery life. In all fairness, always-on displays are notorious for draining battery life. But it's a shame because Fitbit recognizes its long battery life, and the always-on display is fantastic when turned on.
One final comment on the battery: with the Charge 5, Fitbit released yet another proprietary charging dock that uses USB-A. It's the year 2021, people.
New sensors are subdued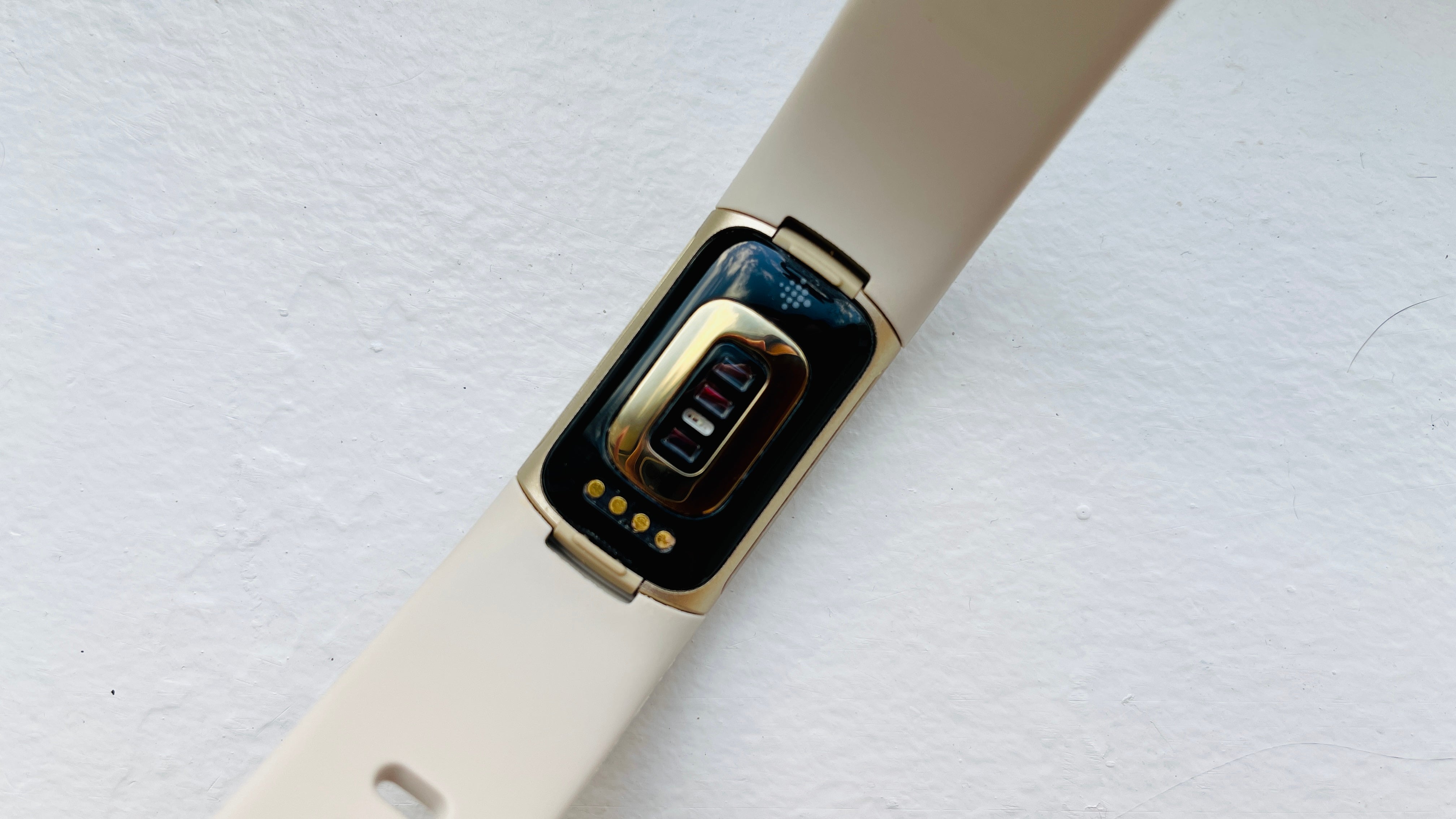 Two sensors have been added to either side of the display: one for taking electrodermal activity (EDA) readings to detect stress and another for electrocardiograms. Both of these features were previously debuted with the Fitbit Sense last year, but this is the first time they've shown on one of Fitbit's more basic trackers.
However, just the EDA sensor and its related stress measuring functions were accessible for testing at this time. I couldn't check how well ECGs function on Charge 5, but I still could receive aberrant notices.
That's depressing, but there's a silver lining: Fitbit's capacitive button interface has phased out thanks to the adoption of these sensors. Instead, swipe left or right to scroll between programs (such as workout, EDA scan, notifications, smart alarms, and so on), then tap once to select. Swiping up will bring you to your daily activity report while swiping down will take you to quick settings, Do Not Disturb mode, and Fitbit Pay. You can return to your normal watch face by double-tapping the screen. This is a much more user-friendly layout that is much easier to use when on the go or in the middle of a workout.
Otherwise, most of the features of the Fitbit Charge 5 include a SpO2 sensor, ongoing cardiac monitoring, built-in GPS, and NFC payments via the fitness tracker these days. None of this is awfully exciting yet again. The only feature lacking from charge 5 is a built-in microphone without which digital assistance is not available. Depending on your priorities, this may or may not be a drawback.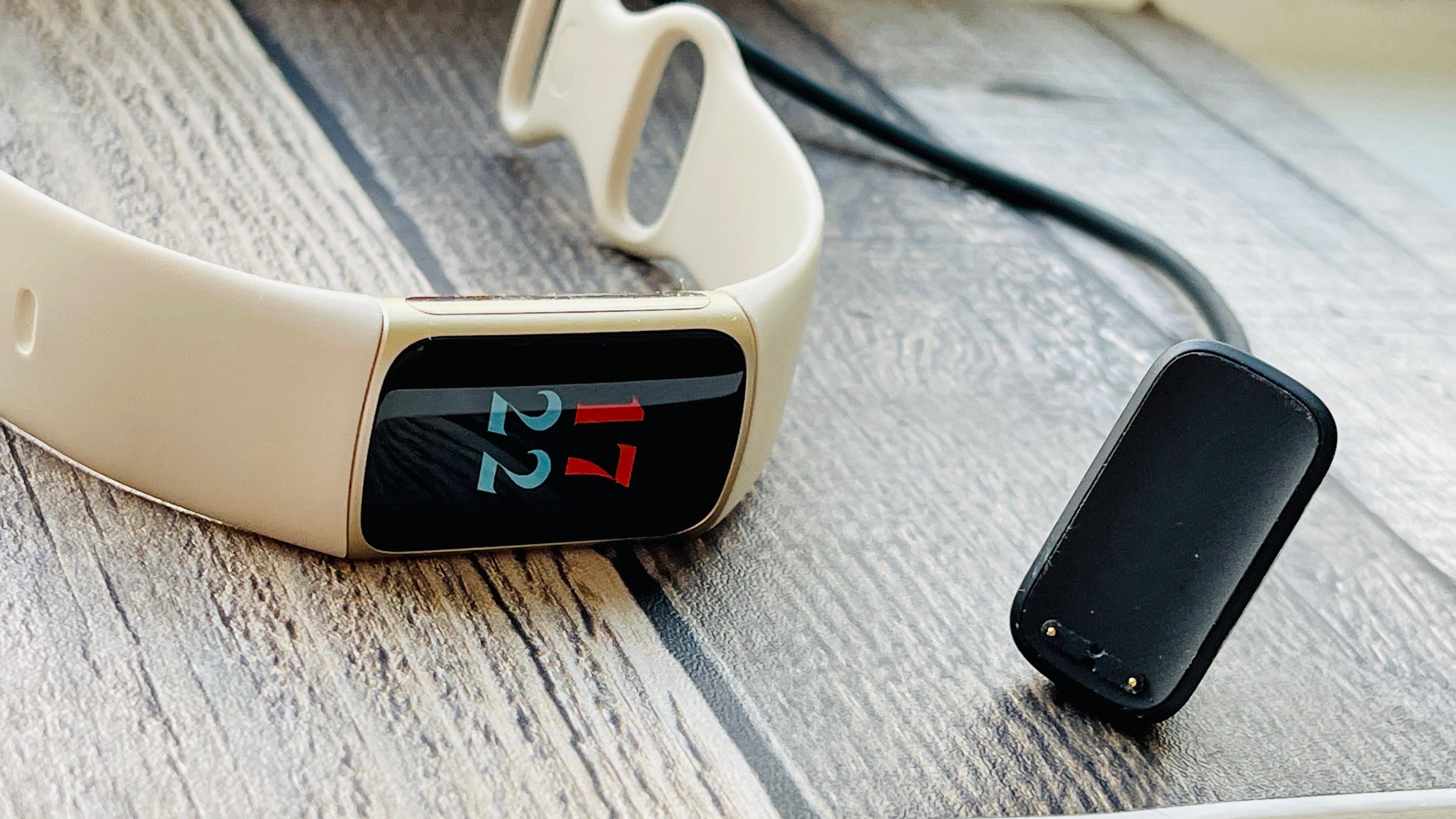 Overall, these improvements result in a Charge tracker that is superior to any previous iteration. That said, none of this is very novel. We've seen everything the Charge 5 has to offer in comparison to other Fitbits and competing trackers and smartwatches. On the one hand, this is wonderful news for Charge users who have been looking for a new tracker for a while. On the other hand, the Fitbit Charge 5 feels like a Frankenstein Fitbit.
Solid, precise tracker fitness
With Charge 5 the firm has dealt with several gripes I had with Charge 4 and is continuously perfecting their fitness-trailing skills. First, charge 5 will find a GPS signal during outdoor practice is significantly faster than charge 4. As far as GPS accuracy is concerned, I discovered that my maps were more precise and that I was not in central East River – a problem with Charge 4 last year. Similarly, the total distance recorded was somewhat closer. During my smartphone's 2.8-mile run, Fitbit Charge 5 has recorded 2.78 miles, while Apple Watch SE has recorded 2,72 miles.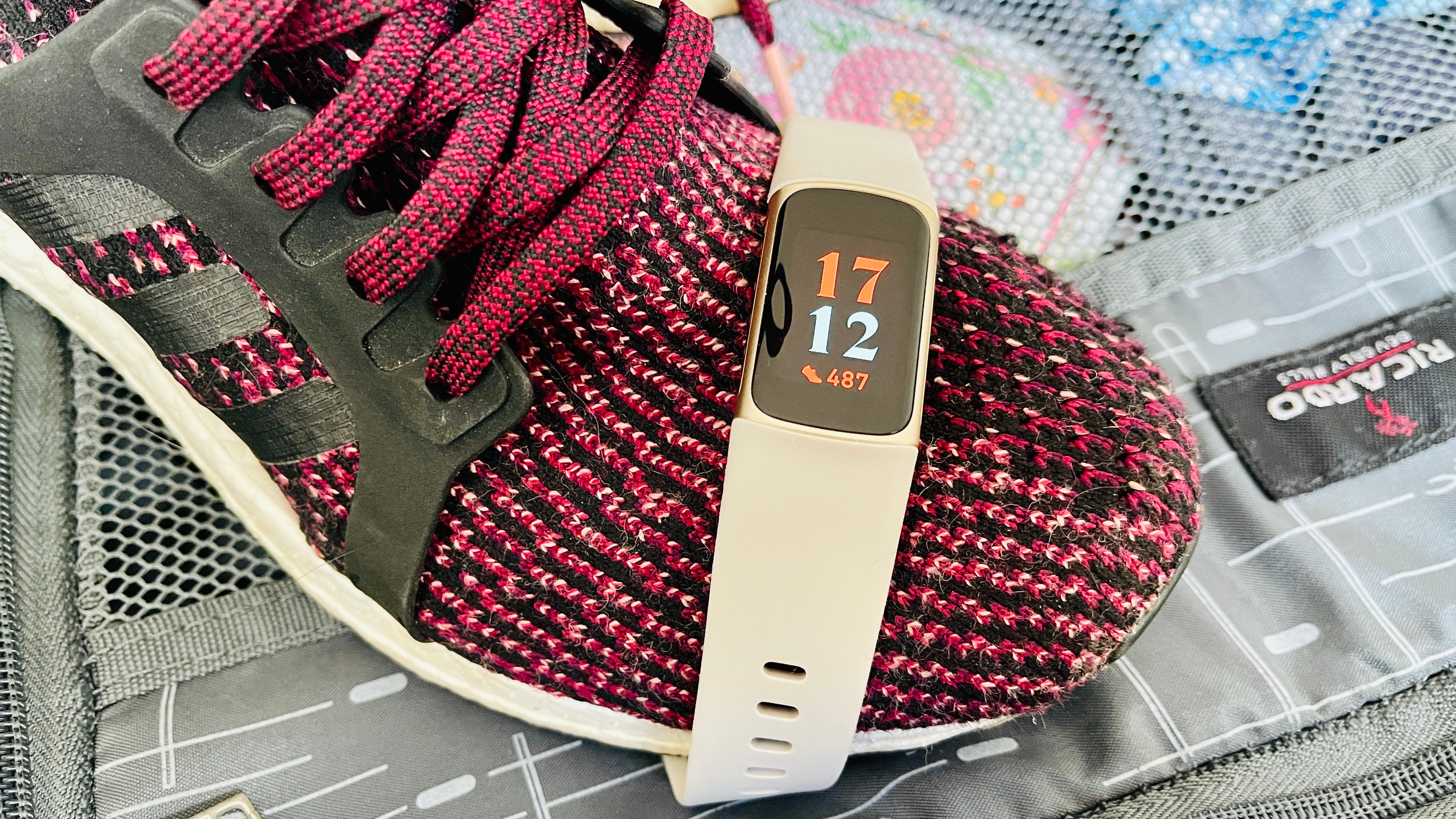 Fitbit's PurePulse 2.0 heart rate-monitoring algorithm looks to have been upgraded as well. When I tested the Charge 4 last year, I discovered that it lagged behind the Apple Watch and my Polar H10 chest strap in reporting my heart rate during exercise. This time, though, such was not the case. All three gadgets were either the same or within five beats per minute every time I checked.
The stress management functions of Fitbit are still the most considerate and the addition of the EDA sensor is a good update for load users. Due to the architecture of Charge 5, readings might be somewhat unpleasant. This is a thin device and three minutes is the default time for an EDA scan. It was a trifle unpleasant to hold for this time while taking the precise finger position. Also, I noticed Charge 5 recorded an average of substantially stronger EDA responses than the Sense even when fully restful. I don't know whether it has to do with the form factor of Charge 5 or whether September is a month of incredible stress for journalists in consumer technology. The readings, however, are fairly consistent and accurately changed based on my relaxation or stress. Overall, I don't believe this is a big issue with accuracy.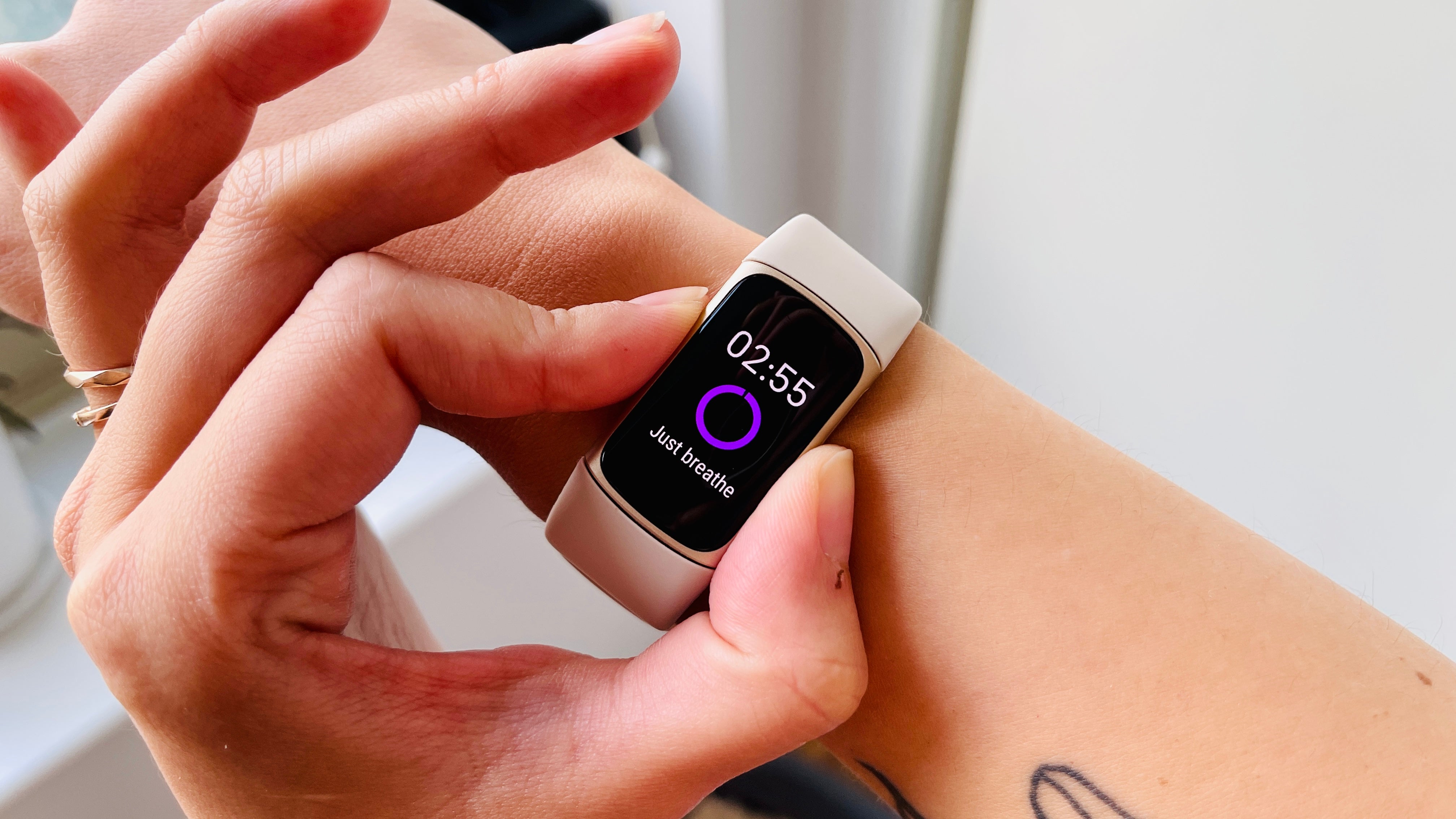 The Health Analytics dashboard in Fitbit's smartphone app provides in-depth metrics such as heart rate variability. Mindfulness sessions, the option to log blood glucose levels, guided workouts, in-depth sleep metrics, and stress management scores based on activities, exertion, and sleep patterns are among the other features. Fitbit Premium customers may access more thorough breakdowns, nutrition material, health reports, and a larger range of audio and video exercises, as well as guided meditations, for $10 each month. Of course, the premium feature set is "superior," but for casual users, the free alternatives are more than adequate.
The Metric That Is Not There
A Daily Readiness Score is (was) the Charge 5's main feature. Based on your effort level, heart rate variation measurements, and sleep, the goal is to get a personalized assessment of whether you should relax or push it a little harder. A high score implies that you should push yourself, whilst a low number indicates that you should relax. Fitbit's Active Zone Minutes measure was expected to be linked to this metric as well. The Daily Readiness Score was supposed to alter your daily target based on how well your body has recovered, while AZM is Fitbit's statistic for helping customers understand if they're receiving the right amount of cardiac exercise per week.
I wish I could tell you how wonderful this feature performed, but I'm afraid I won't be able to do so. It was not completed in time for the Charge 5's debut, along with ECGs. This is a fantastic idea that has already been applied in other recovery-based trackers like Whoop and the Oura Ring. However, I can't advocate this feature as a selling point until it's available and I can test it out for myself. Fitbit just said "later this year" when I asked when the feature would be available.
Is It Really Worth It to Upgrade?
The Charge 5 is $30 more expensive than the Charge 4 at $180 due to the addition of the EDA sensor, color touchscreen, and ECG sensor. On the one hand, the color display's improved design, accuracy, and user experience are all worthwhile additions. On the other hand, two of the most compelling reasons to upgrade—the Daily Readiness Score and the ECG—aren't even close to ready to test.
The first decision you must make is whether you want a smartwatch or a fitness tracker. If it's the latter, I'd go for the Charge 5 instead of the Fitbit Luxe. Although it costs $30 more, it has more functions, a more readable screen, and would look just as nice with the correct strap. The Luxe recommends if you really don't need anything more than a basic tracker or if you have unusually small wrists.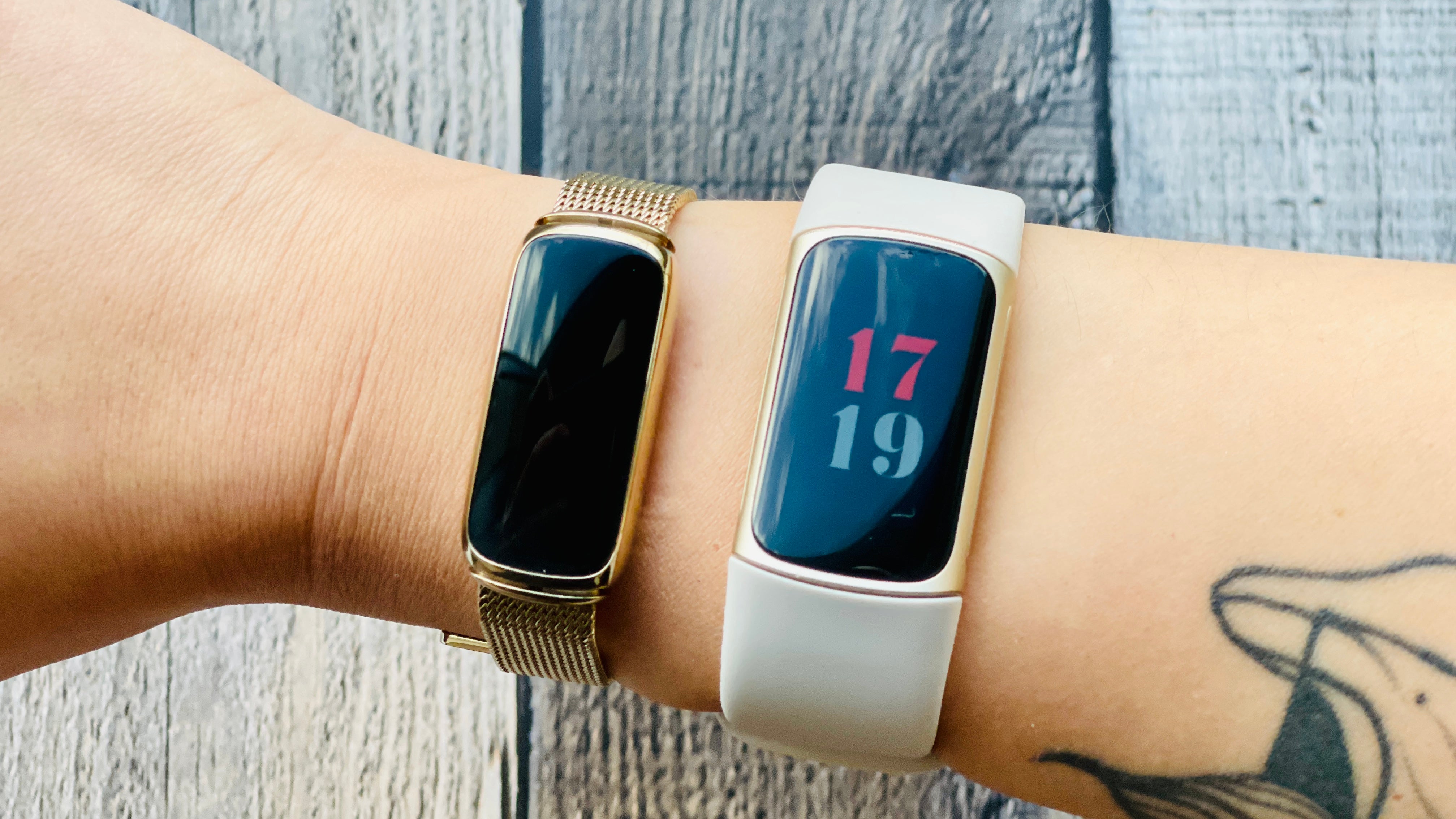 Anyone owning a Charge 3 or older would also benefit from the Charge 5. Seriously, just for the display, it's worth it. With Charge 4, which has been out for about a year, the equation changes slightly. It's a little early to upgrade unless you truly require stress management, ECGs, and a flashy display. This is particularly true because the Daily Readiness Score and ECGs are still alive. you truly want to upgrade, I recommend waiting till those two improvements are ready.
If keeping track of your health is your main priority, the $330 version is the way to go. Fitbit Sense has all of the features of the Charge 5, plus you can use the ECG tool right now, and you'll get the Daily Readiness Score once it's available. If you're in the market for a smartwatch, you might want to hold off until Fitbit and parent company Google reveal a premium Wear OS 3 watch. Fitbit CEO James Park has stated several times in press conferences that the business is working on one, so we know it's coming.
In the end, the Charge 5 is a wise investment for those who already enjoy the Charge series and intend to remain with it. The Charge 5 is a good tracker and the most major update to this product line in years, although the changes are a tad on the boring side. Although it may not be the most innovative product on the market, there is something to be said for dependability.